What is SafePoint?
SafePoint at 101 Wyandotte East is a health service that provides a safe space for people to consume pre-obtained drugs under the supervision of medically trained staff.
---
Services Offered at SafePoint
At SafePoint, individuals will be provided with a range of comprehensive, compassionate, and evidence-based services that meet them "where they are at" in their substance use journey. This includes:
Supervised consumption services
Distribution of sterile harm reduction equipment and supplies
Distribution of naloxone kits and training
Drug checking services
Basic medical care and support
Addiction support
Connections and referrals to substance use treatment and recovery, mental health, primary care, and social services
Subscribe
Receive updates on WECOSS projects and initiatives.
---
SafePoint operates under a comprehensive wraparound service model to support clients in meeting their health and social needs. The site partners with multiple community organizations to offer wraparound services on-site at scheduled times. The services available are presented in the table below.
On-Site Wraparound Services

Organization/Program

Description

Schedule

Windsor-Essex Community Health Centre (Street Health)

Street Health offers Hepatitis C testing/education and assistance with health card replacements.

Every third Friday of the month, starting July, 21st 2023, from 10:00 a.m. – 3:00 p.m.

Breaking Free Online (BFO) App

The Breaking Free Online App is now available on-site to help clients manage their substance use through self-guided courses, positive coping skills, and behaviour change techniques that promote recovery.

Available during all operational hours (10:00 a.m. – 6:00 p.m. daily). Clients who are interested in using the app can speak to SafePoint staff for further details. 

Recovery Education for Addictions and Complex Trauma (RE/ACT)

RE/ACT is a program that applies a holistic approach to substance use recovery by focusing on the numerous ways in which trauma shapes people's lives, thought patterns, behaviours, and health.

Every Wednesday from 4:00 p.m. – 5:00 p.m.
---
SafePoint Poster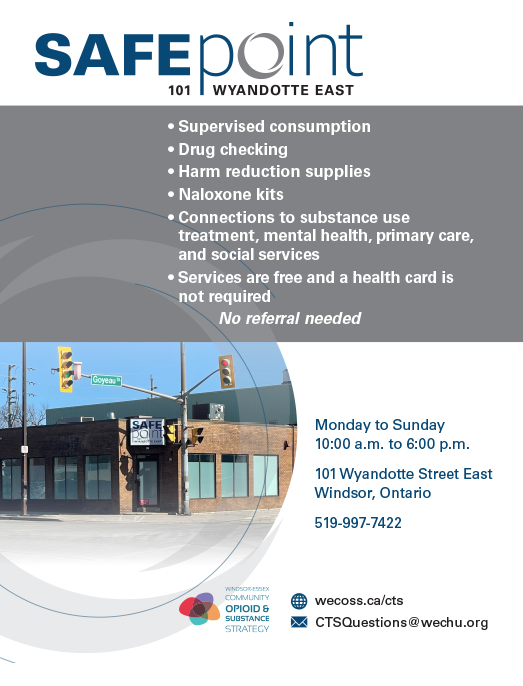 Download Poster
News and Updates
News Release: SafePoint Offering Open Houses To Community Ahead Of Launch
Published on Wednesday, April 19th, 2023
With the site preparing for imminent launch, residents, businesses, and other stakeholders are invited to attend open house tours available to the public at 101 Wyandotte Street East.
---
WECHU Media Statement Regarding Next Steps for SafePoint 101 Wyandotte East
Published on Tuesday, January 31, 2023
We are encouraged by the decision of Councillor Agostino to reconsider last night's motion, which ensures that renovations and our applications can move forward without delay.
---
WECHU Media Statement Regarding SafePoint 101 Wyandotte East
Published on Thursday, January 26, 2023
The following statement can be attributed to the Windsor-Essex County Health Unit (WECHU).
---
WECHU News Release: Three Virtual Town Halls Being Held for Consumption and Treatment Service Site
Published on Monday, January 23, 2023
Businesses, residents, and agencies are invited to have their say at Virtual Town Halls ahead of the opening of the Consumption and Treatment Services Site.
---
Site Floor Plan
---
Community Engagement
Public Open House Tours
SafePoint offers open house tours every Friday from 8:30 a.m. to 9:30 a.m. on a walk-in basis. All community members are welcomed to visit the site to learn more about the services offered.
2023 Virtual Town Halls
In preparation for the launch of SafePoint, the Windsor-Essex County Health Unit, in partnership with the SafePoint Stakeholder Advisory Committee, hosted a series of Virtual Town Halls for businesses, residents, and agencies located in the City of Windsor's downtown core. Three Virtual Town Halls took place between January 24th and January 26th of 2023. Watch a recorded session below.
2019 and 2021 Community Consultations
Community consultations were completed in both 2019 and 2021 to assess the feasibility and levels of support for creating a CTS site in Windsor-Essex County. The findings from these consultations can be found in the following reports:
Full consultation reports can be accessed upon email request to CTSQuestions@wechu.org.
---
Timeline of Activities for SafePoint
| | |
| --- | --- |
| Date | Milestone |
| October, 2018 – April, 2019 | Feasibility study for Consumption and Treatment Services (CTS) conducted. |
| September, 2019 | WECHU Board of Health passes a resolution to proceed with CTS applications. |
| Fall, 2019 – Winter, 2020 | SafePoint Stakeholder Advisory Committee created to guide local planning and decision-making for the site selection and applications. |
| Winter, 2020 – April, 2021 | Site assessment conducted on eligible properties in the City of Windsor's downtown core. |
| May, 2021 | Two candidate locations identified for a potential CTS site in the City of Windsor's downtown core. |
| June, 2021 – August, 2021 | CTS Site-Specific Community Consultations conducted to assess levels of support for the candidate locations. |
| April, 2022 | 101 Wyandotte Street East selected as proposed location for a potential CTS based on support from the Site-Specific Consultations. |
| May, 2022 | City of Windsor Council endorses proposed location at 101 Wyandotte Street East. |
| May, 2022 | WECHU submits application to Health Canada for approval to establish an Urgent Public Health Need Site (UPHNS) at 101 Wyandotte Street East. |
| May, 2022 | Building renovations start at 101 Wyandotte Street East. |
| July, 2022 | WECHU submits applications to the Ministry of Health and Health Canada for approval to establish a CTS site at 101 Wyandotte Street East. |
| January, 2023 | "SafePoint" chosen for site name in consultation with community partners and people with lived/living experience. |
| January, 2023 | CTS Virtual Town Halls conducted with downtown businesses, residents, and community agencies to offer information about the site launch. |
| March, 2023 | Health Canada Site Inspection. |
| April, 2023 | SafePoint receives approval to operate from Health Canada |
| April, 2023 | SafePoint open house tours to be facilitated |
| April 26th, 2023 | SafePoint Opens |
---
Frequently asked questions